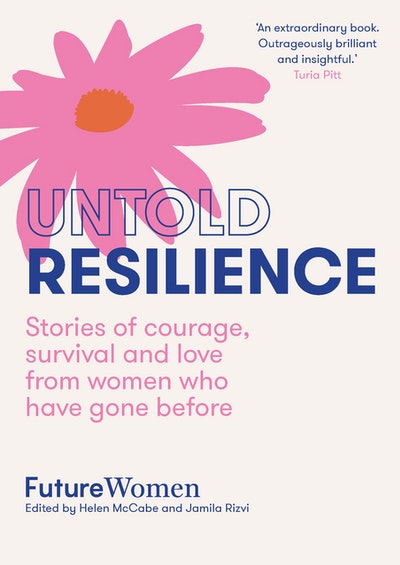 Published:

20 October 2020

ISBN:

9781761040153

Imprint:

Penguin Life

Format:

Trade Paperback

Pages:

224

RRP:

$32.99
Untold Resilience
Stories of courage, survival and love from women who have gone before
---
---
---
A timely and uplifting book of true stories from 19 women whose resilience has seen them survive extraordinary global and personal tragedy.
'This is an extraordinary book. Outrageously brilliant and insightful.' Turia Pitt
What does it take to find courage in the midst of deprivation and devastation? Why are some people able to continue living with purpose, even when faced with loss and despair? How does our community turn challenge into triumph? And what can we learn from the exceptional women in our midst who have done just that?
It might feel like we are living in unprecedented times but ours is not the first generation to withstand upheaval as seismic as the COVID-19 pandemic has caused. In every town and suburb in Australia, there are women from older generations who have encountered unimaginable difficulties before; women who have endured and survived. Their stories are proof of the incredible resilience of the female spirit.
Based on hours of interviews from their homes during lockdown, in Untold Resilience the all-female journalistic team at Future Women uncovers the real-life accounts of a diverse and fascinating collection of women. In doing so they have drawn on the deep wisdom and perspective that can only be gained from a life fully lived.
Our history books have long been dominated by men's triumphant tales but there are also lessons to be learned from the quiet, modest and largely untold experiences of women. With warmth and candour, 19 ordinary, and yet truly remarkable, individuals share their experiences of pandemic, poverty, famine, war, violence and discrimination.
Through these hope-filled stories from women who have gone before, we can find inspiration and comfort, and rebuild faith in our own futures.
Published:

20 October 2020

ISBN:

9781761040153

Imprint:

Penguin Life

Format:

Trade Paperback

Pages:

224

RRP:

$32.99
Praise for Untold Resilience
This is an extraordinary book, which weaves 19 different stories into answering one single question: what makes women resilient? The answer is one tiny word with massive implications. Love. Love for our children, our families, our partners, our communities. An outrageously brilliant and insightful book.

Turia Pitt
Win a Yearly Gold Future Women Membership
We have teamed up with our friends at?@FutureWomen?to share your stories of untold resilience. We want to see your untold resilient heroes. Is there a mother, aunt, grandmother, niece, friend, colleague – anyone – you think deserves attention for being an untold resilient hero? We want to meet them too! Share a pic with your hero and be in the running to win a copy of Untold Resilience and a Yearly Gold Future Women Membership for both you and a friend.

1. Make sure you're following us on?@PenguinBooksAus?and?@FutureWomen
2. Share a photo of you and your untold resilient hero using?#shareherresilience?on Instagram, and tag?@PenguinBooksAus

Competition ends 25th November at 11:59pm AEDT. Open to Australian residents only and limited to one entry per person. Penguin Random House will choose the winning entry, and will announce the winner on the Penguin Books Australia Instagram page. Penguin Random House Australia and Future Women are running this competition without any sponsorship, endorsement or association with Instagram
Article
Future Women Q&A
The Future Women team reflect on the themes of Untold Resilience and extraordinary women interviewed for the book.